Pepper Place, Birmingham's Culinary Destination
Pepper Place-it's a well-known market district meets award-winning foodie scene. We may have started as a market district where local business is celebrated and supported, but today, we've built one of Birmingham's best culinary destinations.
The Market at Pepper Place, which we started in 2000 as a way to help connect small family farms to the people and population of Birmingham has blossomed into a vibrant landscape for Birmingham-based businesses and multiple generations of Alabama farming families–and brought millions into the Birmingham economy. From farm to Pepper Place to area tables, the Market at Pepper Place has also set the stage for a thoughtfully curated and growing food scene Pepper Place.
A Feast for All
Satisfy your appetite with distinctive Southern cuisine that will likely have you craving seconds. Pepper Place is home to award winning, chef-owned restaurants sure to impress the fanciest of foodies. Hot and Hot Fish Club, Blueprint on 3rd, and Ovenbird are among the city's top dining spots and they can all be found in Birmingham's very own market district.  If casual is something you're seeking check out The Lumbar–Birmingham's only science-themed bar. And for coffee, breakfast, lunchtime soups and sandwiches, Pepper Place is also home to the original Red Cat Coffee House. Visitors could easily spend all day feasting and enjoying a delicious collection of culinary hot spots on this charming corner in the heart of the magic city.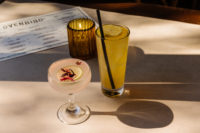 The Market has also helped launch local food businesses, which have also found a home at Pepper Place. Red Cat started to find followers at the Market, and so did Stone Hollow Farmstead and Son of a Butcher. All businesses important to the local food scene and ways in which Pepper Place is evolving from just a an epicenter of design in Birmingham, but also a culinary destination.
Come see what we're made of. Stay a while, support local business and make your own magic at Pepper Place !
Have space needs? Launch or locate your bar or restaurant here. Let's connect and see where you fit in.